Feedback from Our Students and Their Parents
Zera Music Company was founded in 2017 with the goal of helping kids master their chosen instruments through instructors that are held accountable in their teaching and communicating.
Since then, we've had the privilege of witnessing hundreds of students become complete musicians. This means our students not only gain an understanding of their instruments, they also obtain a college-level understanding of music theory. (Potentially saving your future Music Major thousands of dollars)
Take a look at the feedback we've received from some of our recent clients to learn more about what working with us might look like for you and your family!
How We Build
Complete Musicians
Our in-home and online lessons for various instruments allow your child to learn from the comfort of their homes. Our team has served hundreds of students across the Dallas-Fort Worth area. With a single click, you can get started with your weekly lessons as early as tomorrow.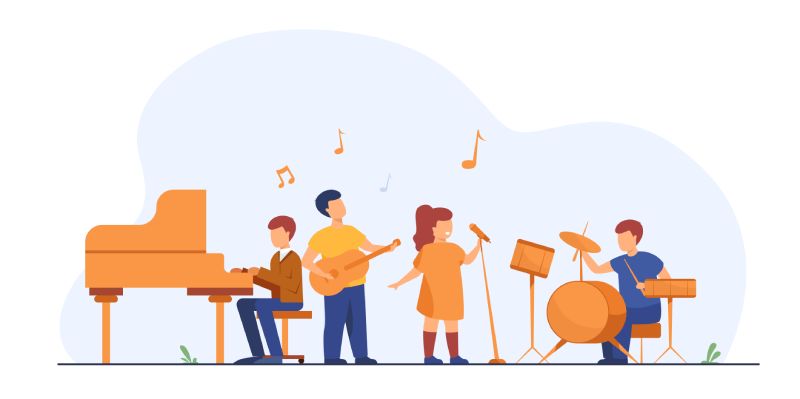 Feedback from Our Satisfied Students
Zera Music Company is your partner in developing and enhancing your child's understanding of music. Even as a young company, we've already received overwhelmingly great feedback from students and parents alike. Check out what our families have to say!
"Both of my boys love their lessons with Zera. Our instructor is very patient and encouraging with them. Lessons are well managed and each boy has individual time based on their learning speed. My boys cannot wait to see him each session. I am very happy."
"Zera was quick to respond to my inquiries, they answered my questions and provided with the information I needed for a quick set up. We thoroughly enjoyed the first lesson, Our instructor was excellent and friendly with my niece, she can't wait for future lessons!"
"Zera is an amazing lessons company with flexible and kind instructors! This is for sure a place that I would recommend to any aspiring musician, or just someone who wants to learn the ropes!"
"Excellent service! We are so pleased to get an excellent piano teacher! Everything is wonderful! Thank you so much!"
"Our instructor is so friendly and a great piano teacher. Couldn't be happier with her and Zera Music Co."
"We have been very happy with the in-home piano lessons for our daughter."
"My boys have loved learning piano!"
"This is a good music group. Bryce is my son's guitar instructor, he's great with kids. We are happy with them."
"Our family loves what they have done for our littles. Not only delivers on what they promise but they exceeded ours and the kids expectations, both in their professionalism and in the invaluable teaching skills. It has been an absolute pleasure to learn and love music with Zera Music Company."
"My sons take guitar lessons with Zera Music Co. and I couldn't be more pleased. The instructors are very professional and tailor the lessons to suit the needs of each child. The website it very intuitive, making it easy to schedule lessons and communicate with instructors. I highly recommend this company for convenient music lessons in your home."
"Sometimes it is hard to find a good fit for adult learners when it comes to stuff like music and voice lessons. But Zera Music Company has some of the most gifted teachers who are patient and willing to teach ALL ages even us old ladies lol Would highly recommend and can't wait to show off my new piano and singing skills."
"Zera Music Company has teachers that really care and are in tune with the students young and adult, and how they learn best"
"My daughter enjoys the lessons and the teacher is very good."
"My sons LOVE their piano and guitar lessons with their instructor. We have been very pleased with Zera Music Company!"
"Friendly staff, convenient lessons out of your own home, and my son loves it! Great job!"
"My twins are taking piano lessons with Zera Music Co. We had our first lesson last Wednesday and it went well. They really like their instructor and I can tell he enjoys teaching."
"Very good experience. Teacher is highly qualified. Quickest in responsiveness. Good price. Very good student portal."
"The heart and concept behind Zera Music Co. is really something special! Being able to have a trained music teacher come to your house and teach is so great! No need to drive anywhere, they do the work so you or your child can focus on learning. Everyone should learn whatever instrument through Zera Music!"
"I contacted several competitors prior and they took a long time to reply. Zera responded quickly, politely, and set things up very easily. Very easy people to work with and my son looks forward to his lessons every week. I couldn't ask for more."
"Initially they couldn't teach due to distance! But the owner promised that he would call back if he find a teacher that live close to me! He kept his word and called me back! First lesson starts this week! Very excited! Thank you!"
"I had an excellent experience with Zera Music Company, and I highly recommend them! Kyle, the music lesson coordinator and my main contact, was always professional, polite, and accommodating which is greatly appreciated when trying to fit lessons into a tight family schedule. He provided information about my daughter's voice instructor, explained their processes in a straightforward (i.e. no hidden surprises or gotchas) way. I especially like that the prices are listed right there on the website. They also followed up after the trial lesson and first lessons to see how everything went. They really care about giving a top-notch experience. Lesson reminders were sent as well. It is very well-organized and more professional than one might expect.

Our instructors, Marcus and Elyssa, each did an excellent job teaching my daughter. They were both personable and professional, and they both knew their craft well. They were also prompt and made use of every minute of the lesson. That's greatly appreciated too. You can rest-assured that every minute will go to good use.

I had an excellent experience over nearly 2 months, but ultimately we had to stop because it was too much on an already tight schedule. But that had nothing to do with Zera. I highly recommend them. Again, I had an excellent experience working with the company.
"My instructor is the best! He is really fun and provides good lessons. I have gotten a lot farther than I first thought I would get to. He also encourages me every step of the way. He's probably really good at all the other instruments but I assure you that he is the absolute best at guitar. I hope that everyone wants to pick Zera for their music needs! He also comes to my house which is pretty nice and it's really cool that he travels around everywhere and being constantly busy I assume. Zera guys... remember the name."
"Knowledgeable, intentional, and motivating. Our kids look forward to their lessons each week. So grateful for Zera Music Company!"
"They were very quick to respond and answered all my questions. We love our instructor, who comes to teach my son how to play the drums. He is always punctual and really is great with my kiddo!"
"Zera Music Company worked hard to fit me into the schedule, due to us having very limited availability. My son has only had one lesson, but looking forward to seeing him learn and grow with ZMC!"
"My instructor is awesome! He knows just how to start with a beginner. Pleasant demeanor and great expertise."
"I highly recommend Zera Music Company! My son loves his piano lessons and has made great progress in a short amount of time."