We have qualified instructors that provide In-Home Guitar Lessons in Arlington, Dallas, Fort Worth, Carrollton, Denton, Frisco, Plano, and everywhere in between.
There's nothing more fun than strumming along with your favorite songs. Zera Music Company provides private, in-home, or online guitar lessons, so your child will have the time of their lives making music.
Combining Fun and Fundamentals of Guitar
The guitar is one of the most versatile instruments, and it has accompanied classical icons and rockstars for as long as we can remember. But fun as it sounds, there's a lot that goes into learning the guitar — the proper way to hold, strum, and express a song. Plus, different genres would require different techniques.
Whether your child is into pop, classical, jazz, rock, or folk, the instructors at Zera Music Company will teach them to play guitar, showing the difference between simply strumming and making music. If they want to rock like Jimi Hendrix or play the softest worship songs, we'll take the right approach to reach their goals. Our guitar teachers tailor every lesson we conduct to each individual.
And we keep lessons fun. There's no pressure to do well right away — we understand that kids have a learning curve. What's important is we keep the passion alive and make sure your child is having a great time.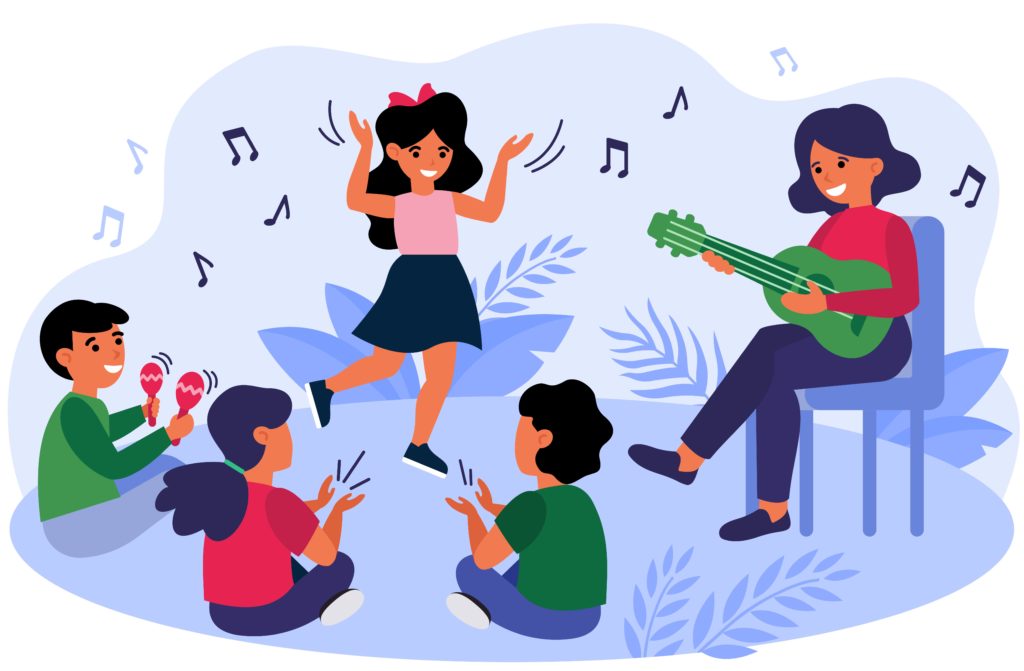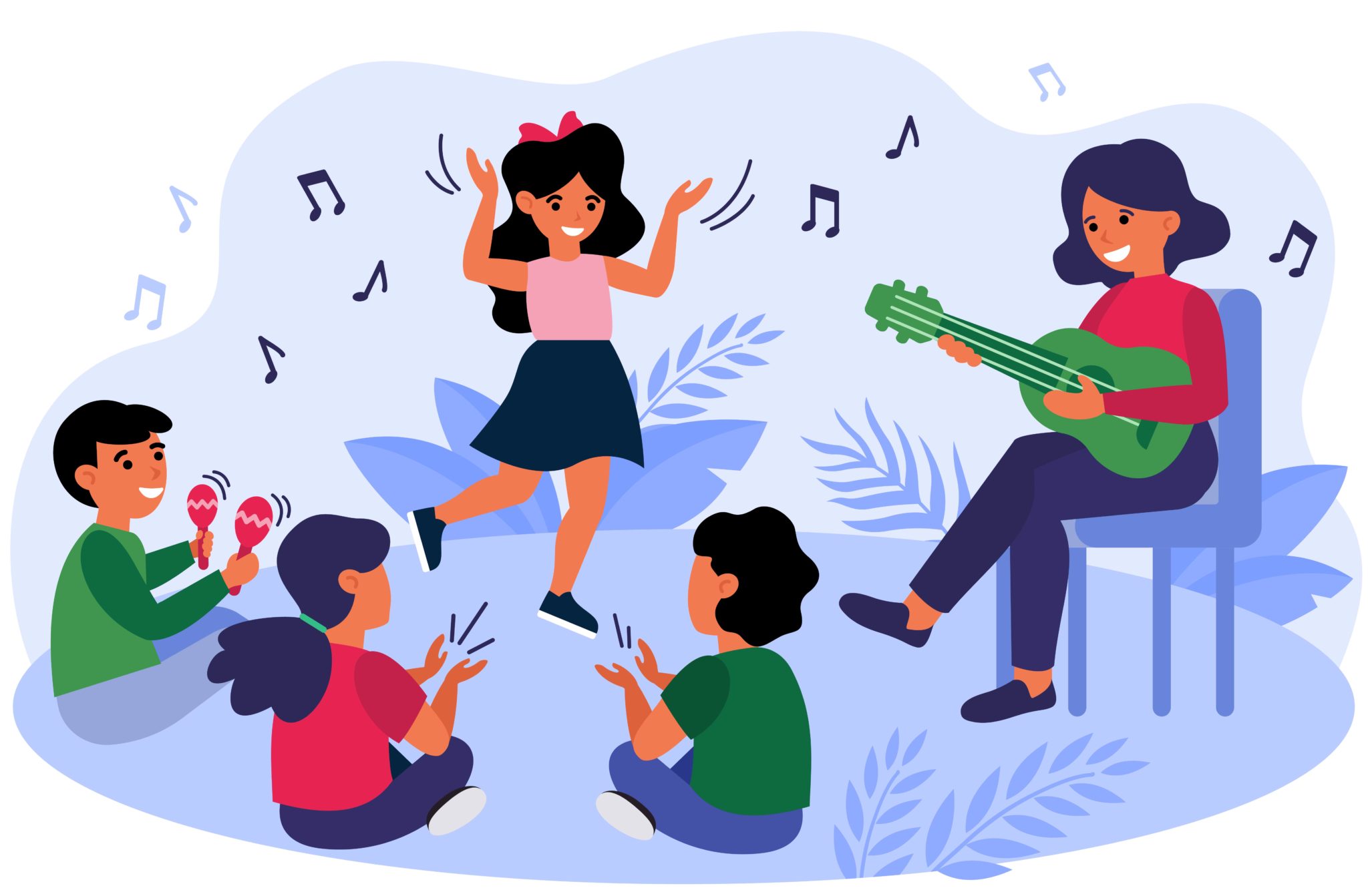 Guitar Lessons for Different Levels
Zera Music Company offers Basic and Intermediate Guitar Lessons to children of all ages.
Basic
Our teachers introduce children to the whimsical world of the guitar, teaching them the basics — holding the guitar, its parts, how to make sure it's tuned. Your child will learn the system to use for their fingers, the frets, the strings, and the chords. The first strums lead to the first song, and before you know it, your child will be jamming along to their favorite tunes.
Intermediate
If your child has mastered the basics, it's time to hone their skills further. In Intermediate lessons, your child will learn more difficult chords to create smoother transitions. They will also learn more sophisticated strumming patterns, different finger styles, and faster rhythms. Students will have a firm grasp of music theory, which will enable them to understand patterns, improvise, and train their ears.
Delivery of Guitar Lessons
Our instructors deliver both online or in-home lessons across the country.
We conduct a weekly lesson through a video conferencing platform of your choice. Even if our guitar teachers interact over the internet, they can instruct and demonstrate proper techniques and recognize the child's progress. Our online guitar lessons are convenient and just as effective. However, we recommend this to households with a stable, speedy connection because lessons are much more fun in high resolution.
These guitar lessons are conducted in student homes, following a weekly lesson schedule. In this delivery, our guitar instructors can monitor first-hand each child's musical progress and demonstrate proper technique. And to ensure everyone's safety, Zera Music Company teachers upholds COVID-19 protocols in and outside of personal lessons.
Our guitar lessons have transparent pricing. There are no contracts or hidden costs.
Join the flagship program we've been perfecting since our founding.
Choose between ZOOM, Skype, and FaceTime for your weekly scheduled lessons.
Family Discounts for Guitar Lessons
Questions About Guitar Lessons
Is there a proper age to start guitar lessons?
There's no proper age to start learning the guitar, but generally, children under six years old find it difficult to hold and strum a guitar. Physical strength and dexterity are factors, but we would love to help navigate through options and make suggestions together! 
How do I know my child is progressing?
We don't follow rigid grading systems, but we pay special attention to the speed of each student's progress. After some time, your child should be able to play their favorite songs. We also emphasize heavily the importance of practice!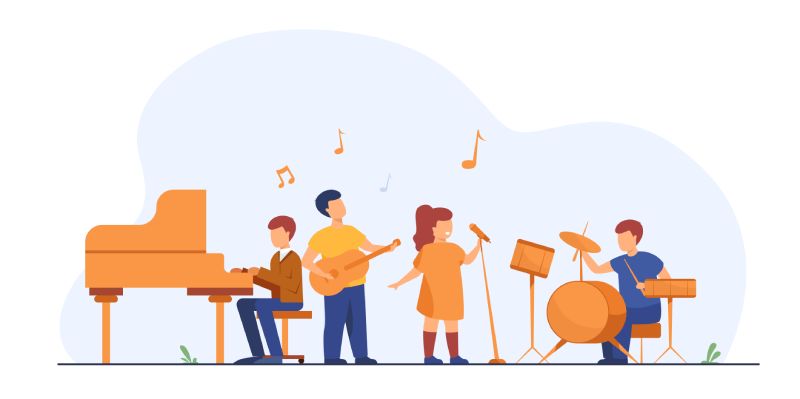 Learning at Zera Music Company
Zera Music Company is passionate about creating musicians out of our students. We provide top-notch music education to children, covering guitar, piano, drums, and voice. To date, our teachers have helped hundreds of students get one step closer to becoming a skilled musician.
It's All About Fun and Improvement
We value passion and progress, and we keep our guitar lessons enjoyable. We have certified instructors trained to teach the Zera Music Company way — fun and focused on technique and progress.
Spreading Music
Across DFW
We provide In-Home guitar lessons in Arlington, Dallas, Fort Worth, Carrollton, Denton, Frisco, Plano, and everywhere in between!