Intentional Music Lessons for Kids throughout the Metroplex
Zera Music Company helps your child become a complete musician. We provide in-person or online guitar, drum, voice, and piano lessons to kids in the Dallas-Fort Worth area.
Turn Your Child into a Complete Musician
At Zera Music Company, we don't just teach your child how to play their instrument; we help them master it. Our instructors are well-versed in performing and teaching each instrument. Apart from teaching the fundamentals, they help each student learn basic to advanced music theory concepts. This way, your child can truly express themselves through their own brand of music.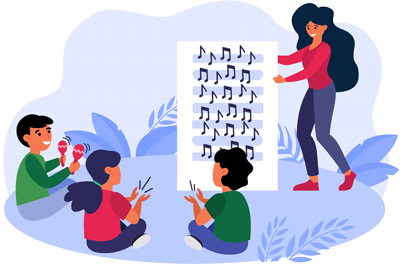 We offer beginners piano lessons, covering the fundamentals of making melodies on a keyboard—proper technique, reading notation, music theory, and repertoire building. Your child will recognize patterns on composition and play key pieces by heart.
We offer drum lessons for beginners, teaching kids the different pieces and their sounds on a drum kit. They will perform exercises to learn the connection between different percussion sounds and memorize basic drum beats.
We offer voice lessons that teach a child the right breathing techniques, posture, diction, tone, and intonation. The voice coach will train the student to stay in pitch and convey expressions required of the song.
We offer Basic and Intermediate guitar lessons. The former covers the fundamentals, like holding and strumming, memorizing the strings and frets, playing basic chords, and more. The latter introduces the child to more sophisticated chords and finger styles, as well as complex rhythms.
At Zera Music Co, we want to be as open and up front as possible. No hidden costs, no contracts. Get started 100% risk-free!
Our flagship program that we have been perfecting since our founding.
Choose between ZOOM, Skype, and Facetime for your weekly lessons!