Intentional Music Lessons for Kids throughout the Metroplex
Zera Music Company helps your child become a complete musician. We provide in-person or online guitar, drum, voice, and piano lessons to kids in the Dallas-Fort Worth area.
Turn Your Child into a Complete Musician
At Zera Music Company, we don't just teach your child how to play their instrument; we help them master it. Our instructors are well-versed in performing and teaching each instrument. Apart from teaching the fundamentals, they help each student learn basic to advanced music theory concepts. This way, your child can truly express themselves through their own brand of music.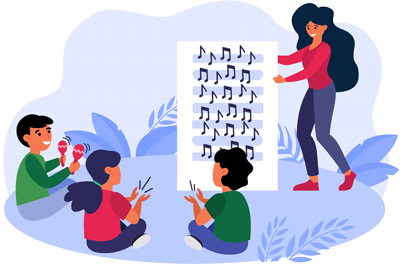 The piano is a great way to start your child's musical journey. We'll teach them all the fundamentals like proper technique, chords, rhythm, and note reading. And once they're ready, we'll help them unlock advanced music theory concepts like complex chords and harmonies. Whether they want to be the next Beethoven or Herbie Hancock, we'll help them reach their piano playing goals.
Does your kid want to be the rhythmic core of their band? Enroll them in our drum lessons! We help them learn and hone the basic grip and fill techniques and time signatures. Our team also lets them explore different musical styles, from classical to jazz. This way, they can truly explore their passion through their sticks and kit.
If your child wants to improve their voice or enhance their natural talent, we're more than glad to help them out! Apart from basic singing techniques, we'll help them train their ear, so they always keep the pitch and rhythm. Our team also trains them in improvisation, and performance so they can find and use their true voice onstage.
Whether your kid wants to rock out like Jimi Hendrix or improvise like George Benson, we'll help them reach their guitar playing potential. Our instructors will help them learn the proper techniques and basic chord progressions. And when they're finally well-versed with the fundamentals, we'll branch out toward the musical styles they want to play.
At Zera Music Co, we want to be as open and up front as possible. No hidden costs, no contracts. Get started 100% risk-free!
Our flagship program that we have been perfecting since our founding.
Choose between ZOOM, Skype, and Facetime for your weekly lessons!